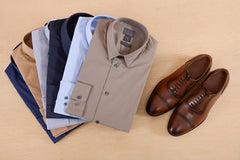 Posted on 11 May 2019 | Yash Panjabi |
Byron's wide selection of iconic shirts can be matched with many styles and colours. 
A light grey, grey or brown shirt would do well with any black or dark brown shoes and leather would be most suitable material to go along with these colours. However a black, charcoal or navy shirt would look stunning with a polished black leather shoe.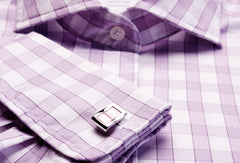 Posted on 08 May 2019 | Anil Panjabi |
The weave is the way in which the threads of cotton (called warp and weft) are actually put together to make a fabric. The weave not only affects the way a shirt looks and feels, but also how warm the fabric will be, the way it drapes, how easy it is to iron, and sometimes, where and when it should be worn.