Why We Love Dress Shirts (And You Should, Too!)
Posted on 30 March 2015 | Anil Panjabi |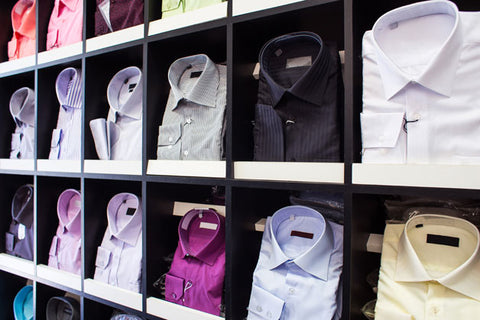 These days what women think about men and their looks is not a big concern for men. As most men have become fashion conscious.  They believe in style and know that dress shirts and accessories they choose can not only make them look good, but also feel good. It's a general human tendency that you feel better about yourself when you feel good in the clothes you wear. This doesn't include wearing the latest brand, but wearing shirts that you like and which fits you well. Looking good can make the real difference to your life.
Wearing the right kind of dress shirt can not only boost your professional life, but also enhance your impression on personal and social front.
Three reasons to love dress shirts
Take your time and effort to look best with dress shirts as there is only one chance to create a first impression.
1. Style
Fashion fade, whereas style is eternal. When you wear a dress shirt you stand out from the crowd. Although, dress shirts are generally designed in traditional color and style, they are never out of fashion. These shirts are to be worn in a formal way, you can select your collar style, neck pattern, color, fabric and many more options which can help you to customize your fitting. A sharp fitted shirt always keeps you attracted to the crowd.
2.  Appropriate fit
Men's dress shirts should taper from the chest to the waist. A properly fitted shirt must always be lightly hugging the hips. What does "lightly hugging" mean? When you wear a shirt, you always want that final button to close without pressuring your hip area. At the same time, you don't want it ballooning like a huge T-shirt; that just means your shirt is too big overall. Not all shirts are made the same, so don't purchase without actually judging your size. Take the time to try on different fits and buy a shirt that fits your shape. Better is to go for a customized men's shirt to get the right fit.
3. Length
The shirt's stitch should be long enough for you to comfortably wear the shirt tucked or untucked. There are two ways to check this: first, when your shirt is untucked and buttoned, the tail should fall just past the back pockets of your pants. Second way to know whether you have the right length is to tuck in the shirt. When tucked in, raise your arms above your head and see if the tails pop out from your pants. If so, your shirt could be a little too short. Generally, dress shirts are meant to be tucked in, so they are a little long in length.
You can add up your own collar, pattern, fabric etc., and customize it according to your choice to make a dress shirt. You can buy  a customized shirt at www.byronshirts.com