How to nail perfect tuxedo attire?
Posted on 17 March 2015 | Anil Panjabi |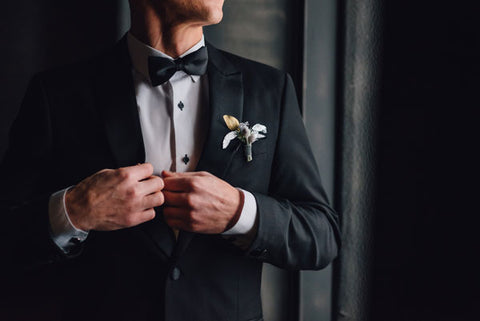 Over the years, fashion and style might have changed, but the traditional attire is still the same. In the good olden days, gentlemen used to wear a tux for a romantic date with their lady love. In recent times, when there is a formal black tie event, people are expected to be in tuxedos and evening gowns. But, usually people wear casual Friday uniform of a golf shirt and khakis. If you ever receive an invitation to a wedding, go for a tuxedo. The colored tuxes and ruffled shirts ruled the 1970s. You can go for a classic look when it comes to tuxedo. The only thing to you must to do is to be aware of the multiple pieces of the outfit that match each other as well as the occasion. You can add the accessories like pocket squares, shoes, braces and hats. The trick is knowing which tuxedo style to wear and when to wear. Before you dress for your next formal event, have a look on how to wear a tuxedo well.
3 Ways to complete your look
1. Tie choices
The first thing you have to come across is tie choices. You have three tie options to decide upon: The first is the pre-tied bow tie. The second is the actual bow tie, which takes a steady hand and a bit of practice. If you're in a rush, you can avoid this one. Third, a black tie that adds a modern touch to any tux and is best for an evening theater.
2. Collar style
Generally, you get the option of the band collar, which is a standing band-shaped collar that encircles the neck without a foul. And the second one is a pinpoint French-cuffed shirt, which is also a good option. You can customize the shirt according to your fitting. By customizing shirt, you will be wearing a comfortable shirt.
3. Tux designs
You can start off with the single-breasted jacket, which is used for all-purpose and classic style, and fits all body types and sizes. If you are taller than six feet, the double-breasted jacket is the ideal choice for you because of your body shape and cut. And the last option is the white dinner jacket, which will go well only if you have the luxury of attending a black-tie affair in a tropical climate.
Wearing a tuxedo well is an art that any man can perfect by paying attention to some of these details. If you need accessories for your tuxedo or want help in selecting the right formal wear, visit www.byronshirts.com