The importance of choosing the right wedding shirt!
Posted on 10 March 2015 | Anil Panjabi |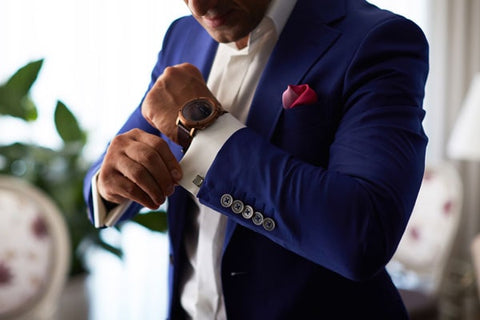 Wedding is an important affair in a person's life. We all want to look perfect on our wedding day and there's no compromise when it comes to donning the best outfit.  If it's your big day coming up and you want to look your best, we have some tips for you.
The first tip pertains to nailing that perfect look. Generally, while shopping for your wedding attire, you will face issues, such as which shirt, color and fabric to choose, especially, when it comes to choosing the perfect wedding dress shirt. You need to look best so that you can look well-matched with your dream woman. Also, there would be numerous people around you and you have to look the best among the rest. Often, selecting the right outfit for a wedding becomes a challenge for men, as they have to consider the style, look and overall personality. This is the reason why you should make some special considerations while choosing your wedding shirt.
3 Things to consider while choosing your wedding shirt
Let us look at the key things that you need to consider while selecting the perfect men's wedding shirts.
1. Choice of fabric
Choose your fabric wisely as the fabric decides the opacity of your shirt. You can select finer fabrics, like broadcloth and poplin overtwills and pinpoints, as this will give you a complete look.  You can select a shirt depending on your skin tone. You can wear an undershirt to make your dress shirt appear white at the chest. On the other hand, if you go for a thicker white fabric that is more opaque, you can avoid an undershirt completely. In addition, a thicker dress shirt fabric usually reflects you with a wrinkle free shirt. 
2. Collar style
Deciding a collar style totally depends on your wedding outfit, for instance, with a tuxedo or a formal suit, the English spread collar goes great. It pairs well with a bow-tie and a long neck tie. If you are buying a tuxedo shirt, then you can choose the wingtip collar. But, remember, this collar style generally move out of place and could mess up some of your wedding photos. You can customize your collar according to your choice and select a customized shirt for yourself.
3. Shirt color
Color of your shirt is what shapes your look. You can opt for a white dress shirt, as it is a safe choice. You can also go for an ecru or ivory dress shirt.  Ecru is usually a darker color than ivory, but here the thickness of the fabric can change the perception of the color. Go for a color that blends over your complexion.
With exclusive style preference, you can have a shirt that fits your needs at www.byronshirts.com