How custom shirts can help you create a positive image?
Posted on 24 February 2015 | Anil Panjabi |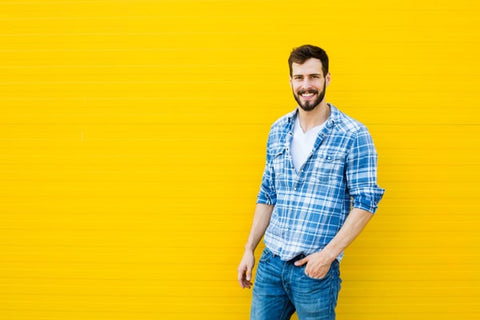 Your appearance is the first thing that people notice. Whether in a meeting or for a client visit, the way you dress shapes your personality in the professional world. Improper dressing or loose fitted shirt can kill your look and make you appear sloppy. This generally happens when you are too skinny or fat for your clothes. Either of two can lead to an over-sized shirt or a very tight-fitted shirt. Is this your problem too? If yes, then custom-made shirts are the answer that will help you look suave.
A few decades ago custom-made dress shirts were meant only for the rich and famous. However, with the online shopping domain catching up the heat, are designed every man can afford to buy shirts that is designed specifically for his taste. Ordering a custom shirt lets you decide, the fabric, cuff style, collar, sleeve, waist, chest, and other important measurements. Here are three main advantages of buying customized shirts online.
Benefits of ordering custom-made shirts
1.  Completely personalized
Custom shirts give you the freedom to choose every detail, from the color, design, style to the more refined touches of collar options, cuff shape, extra or hidden buttons to customizing the pocket shape and more. Your ability to choose the specific fabrics, patterns and colors of your shirts allows you to shape a flexible wardrobe, where you can mix and match your new shirts to add your own style and stand out from the crowd. You can also add a monogram to make a style statement.
 2.  Fitting
Since your custom-made shirts are made according to your measurements, these shirts provide you with a proper fit and comfort. The sleeve, waist, chest and collar fit to the T. With a customized men's shirt, you don't have to worry about a perfect sleeve length or the right amount of comfort around your neck.
3. Quality and value
The freedom to choose special features for your custom shirt means the shirt will be well-made, long-lasting and provide you with extra value. For instance, adding French seams makes a shirt much more secure and tough. You can also choose to get a hem inserted at stress points to prevent them from splitting. When you add all these things, you get a quality added within your value.
You will instantly feel the comfort of a tailor-made shirt once you wear one. Eventually, your fashion choices are up to you. You should wear what makes you comfortable. Clothes are like our second skin and if we are not comfortable being in them, it will show on our personality. A customized shirt gives you the confidence to be in sync with your true self and help you create a positive image wherever you go.