Top 5 Types of Dress Shirts Every Man Should Own
Posted on 19 February 2015 | Anil Panjabi |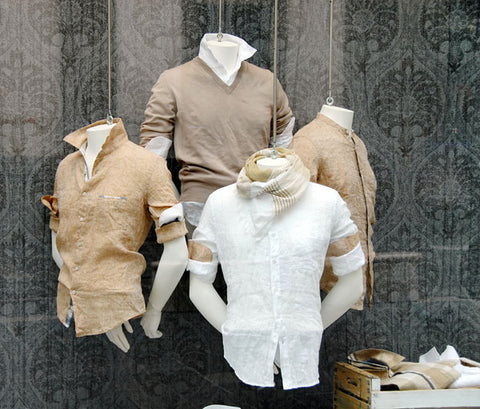 Ever wondered what type of clothing men prefers? Men have a limited range of option when it comes to clothing is the general belief. Enter today's century and you will notice men's fashion soaring to newer heights. Men are equally competing with women in the fashion world. While trying to be in fashion, don't forget one thing, fashion is temporary whereas style is timeless. In this blog, we will talk about the eternal dress shirts for men that will always stay in vogue. Here is the list of dress shirts that every man must own.
5 Types of dress shirts
Usually, dress shirts were defined as the formal shirts that are best worn with black or white tie. However, with time more colors have evolved and dress shirts are now trendy and suitable to be worn for occasions.
1. The striped shirt
The striped shirt is a must in your wardrobe as an office wear. Wide lines on a crisp white shirt looks bold, but still clean. A stripe shirt looks classy when matched with a solid color suit.  You get the impression of height when you wear a striped shirt. Shirts with a fine stripe looks elegant while a thick stripe makes a statement pair with a matching solid color tie to make the impression long-lasting.
2. The micro pattern
Design mixed with two or three colors is called a micro pattern shirt. The pattern can be a tiny check, tattersall, micro-plaid, or gingham, with more of geometric form. From a distance they look solid, but when you look closely they're not. These shirts have lots of visual complexity and they look great when you wear it with a suit, but without a tie.
3. The bold gingham
The bold gingham can make you stand out from the crowd. You can wear it on a casual Friday, or match it with a solid color business suit to make a bold impression. You can also add a contrasting color to your suit that can make a bold statement. Wear it with a sport coat or blazer to complete the elegant look. The color is up to you.  Black and White offer the most contrast, but deep blue, red, even purple looks better.
4. The white shirt
A man must include a couple of white shirts in his wardrobe. Because not all white shirts are created equal. Now you can create a customized shirt that will make you stand out of the crowd.
5. The pink
Pink is in trend and definitely a safe choice to wear for any occasion from a morning meeting to an afternoon lunch date. You can pair it with a contrasting color tie to complete the look and be in fashion.
It's not that hard to buy dress shirts online. You can now order customized dress shirts from www.byronshirts.com