What to wear with grey clothes?
Posted on 06 April 2015 | Anil Panjabi |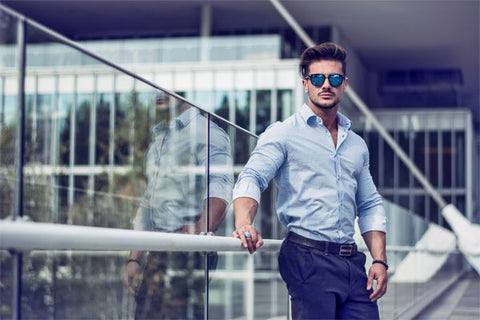 With the arrival of spring season, men's fashion is back with the monochromes and neutrals. All men desire to look stylish and with the less color choices that they have, it becomes a task to nail the perfect look. Grey is the trending color of the spring season. What you have to do right is to put a little effort towards the tone and texture that allows you to wear multiple shades of the same color, and makes you look well-dressed.
There is a fine art to wearing simple clothes and making them look as if you have dressed with deliberate understatement rather than a lack of imagination. You just need to add an element of emphasis. Be aware of presentation and quality and wear shades of like flecked granite with soft, cloud grey or charcoal with silver.
3 Tips to match your grey
Grey suit is an essential color of menswear for any stylish male. It becomes versatile when paired with contrast colors with your existing tailoring.
1. The 'All Grey' Outfit
All grey attire can actually be put together to make you look great. The thing about grey is that the shade can vary greatly. From light grey (just off-white) to darker charcoal hues, there is so much range that you can give your outfits' by just creating a contrast. You can even pair your shirt and suit combination with grey overcoats and ties, so long as you incorporate additional textures and patterns.
2.  Grey and blue
Grey and blue is another beautiful color combination. Blue is going to be huge this spring, which means that by combining these two colors you can hint at the current underlying trends. Again, the easiest way to incorporate blue into your outfit would be through the use of a dark navy tie, whilst navy tones for your base outfit can also provide a great contrast.
3. Grey Shirt & Tie Combo
As mentioned above, the grey shirt and tie combination is one you should definitely consider. Make sure you choose a darker tie and you can't really go wrong, especially, if you opt for pattern and/or texture in order to differentiate the two pieces. Since, grey is a neutral color it goes well with colored ties. You can go for a flannel, silk, knitted, tweed effect or even deep, rich shades tend to work best, with the most suitable colors coming in your purple, red and blue tones.
To add more, you can opt for brown shoes which is an ideal match with grey formal wear. Whether you opt for a formal shirt or a casual grey, you can pair it with bold colors and make a style statement every day.
To browse through the best variety of grey shirts, browse http://www.byronshirts.com/.  What more, you can also customize your shirt for a unique look.