Fashion Fever, Spring 2016! Best Custom Made Dress Shirts
Posted on 28 April 2016 | Anil Panjabi |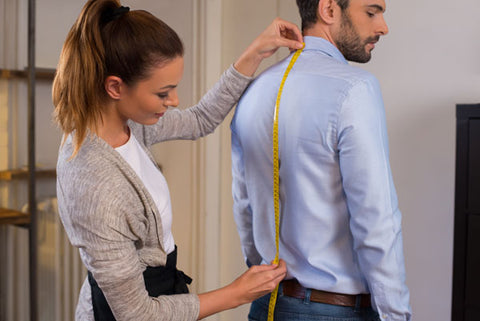 If comfort had always been your thing then it's time to get your daddy's old dress shirts and flannel shirts back from the dead because this spring baggy button downs and relaxed denims are that one hit combo that has got everybody talking!
With the mercury level rising and the sun beginning to shine a little brighter, an old oversized dress shirt is all we can think about right now. First of all this off duty favorite is super comfy and convenient. Throw it on; add some bohemian accessories and you are good to go! Secondly it's easy on the pocket. You don't have to spend a lot of your hard earned money to look on-trend this spring, dig out your brother's old clothes or visit the place where daddy goes shopping and there you have it.
An oversized dress shirt can work magic especially if it is a subtle monochrome or a classic white! Below are some of the ways in which you can give a feminine flair to masculine baggy looking shirt.
Whites and Neons! Let's say that you were heading out for a shopping spree with your favorite girls and you can find nothing occasion-appropriate. How about we throw in your brother's freshly laundered white shirt, the one he wears almost all the time and pair it with those neon leggings? Sounds Chic right? We thought so! For accessories how about we add some chunky bangles and charm necklaces? For makeup try go for heavily kohled eyes and a bold lip.
After applying a layer of your favorite primer, add a layer of tinted moisturizer and some bronzer for a sun-kissed look. Use crème eye pencil to line your upper and lower lash line and with the help of a smudger brush smudge the color to get rid of any harsh lines and rough edges. Add a layer of fuchsia on your lips, hop in your favorite sneakers and dash out in style.
Oversized white Dress Shirt with a brown leather belt. Become a fashion risk taker this spring and wear your favorite button down white shirt on its own like a dress and put your glam on. Many fashion icons like Vanessa Hudgens and Rihanna have been spotted adorned in their favorite white dress shirts and aviators. What better way to flaunt your perfectly tanned legs? Try pairing it up with a Gwen Stefani lip, a brown leather belt and a gold statement necklace and rock the streets with you glam-diva look!
9 to 5 look. If you are thinking about adding a fresh spin to your office wardrobe consider taking a button down shirt and pairing with your favorite pair of jeans. Tuck in the shirt, add a pair of peep toe pumps, a high ponytail and a blazer on top. This will add a professional, I-mean-business look to your attire! For makeup you can pop on some nude eye shadows from the original Naked palette, add a layer of Cindy-Lou Manizer from The Balm cosmetics and Maybelline False Lash Effect Mascara for a high impact look. A Kylie Jenner lip color will seal in the look with class.
The Beach babe. Add some sea-side appeal to your attire by adding that multi-colored Customized dress shirts that your mother had been wearing the years before and layer it on top of your bikini after a refreshing dip. The shirt will not only keep you warm and covered but the relaxed fit and super chic look will earn you compliments.
It's a date! Heading out for a date on the 13th street? Fret no more, take out that basic white tee with those exaggerated dolmen sleeves and pair it with those extra cropped denim shorts. Wear your hair in a high ponytail, this hairstyle will highlight the contours of your face and that perfectly chiseled jawline. For makeup, add a spritz of Primer water by SMASHBOX to keep your face hydrated and to eliminate the need for those frequent touch ups. Add a tinted moisturizer or a BB cream for some light coverage. Using the Bronzing Palette by ELF cosmetics, contour your face and add a peach blush keeping yourself in sync with the spring theme. Add a layer of blue shimmer to your eyes and a nude lip to lock in a super diva look.
At the end of the day it does not matter how much money you have spent on your wardrobe, it's about transforming the already existing items and making them statement pieces.