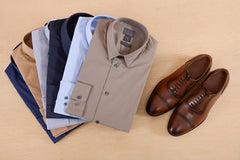 Posted on 11 May 2019 | Yash Panjabi |
Byron's wide selection of iconic shirts can be matched with many styles and colours. 
A light grey, grey or brown shirt would do well with any black or dark brown shoes and leather would be most suitable material to go along with these colours. However a black, charcoal or navy shirt would look stunning with a polished black leather shoe.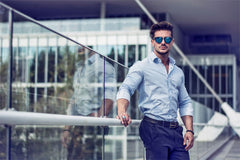 Posted on 06 April 2015 | Anil Panjabi |
With the arrival of spring season, men's fashion is back with the monochromes and neutrals. All men desire to look stylish and with the less color choices that they have, it becomes a task to nail the perfect look.