How to match your shoes and shirts?
Posted on 11 May 2019 | Yash Panjabi |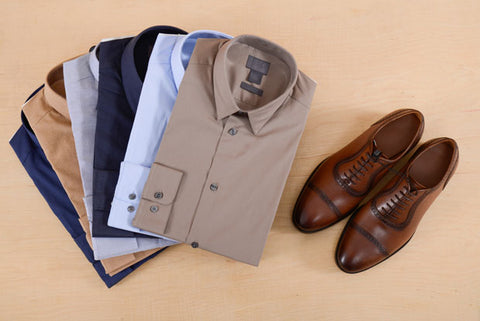 How to match your shoes and shirts?
Byron's wide selection of iconic shirts can be matched with many styles and colours. 
A light grey, grey or brown shirt would do well with any black or dark brown shoes and leather would be most suitable material to go along with these colours. However a black, charcoal or navy shirt would look stunning with a polished black leather shoe. 
A white shirt could be worn with a variety of colours, such as black, dark brown, brown-maroon, light brown, burgundy or white. A blue indigo shirt would match perfectly with the same colours, but a recommendation is if you are going to be wearing white shoes with a blue indigo shirt, a solid white tie would do you some justice. 
A royal blue shirt allows for an open choice of shoe colours, a black or brown-maroon would suit a more formal event, but if the shirt is being used for a casual event a clean white or light brown shoe would look dapper.
A baby pink or light pink is a bold statement but looks astonishing if you can pull it off. The pink could be worn with a black or white leather shoe. But will also look really nice with light brown pair of suede loafers or dark grey formal leather shoes. 
Many of the two coloured checked shirts are hard to mix and match with a variety of shoes. A suggestion for the checkered shirts is to wear the one of the colours on the checked shirt for example a white and blue checked shirt, a nice white shoe would look very nice. Another option is to wear black sneakers for informal events. But as always a classic black or brown leather shoe would look fantastic. 
All of these colours can be found on the website. Good luck, happy choosing.