Styling Tips For Men - Make Her Fall in Love This Valentine's Day!
Posted on 11 February 2015 | Anil Panjabi |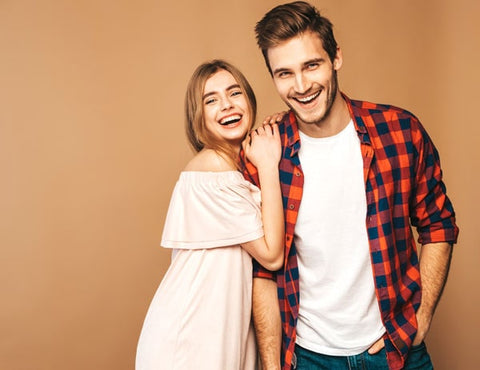 With the Valentine's Day around the corner, you must probably be racking your brain over which restaurant to pick and what flowers to present her. But before that, take a moment to decide your outfit for the date. A well-dressed suave man is a dream date and you should leave no stone unturned to capture the perfect look. A shabby look is a no-no, especially, when you plan to take her out to a sophisticated place. Therefore, you need to dress up your best. Your outfit will make the first impression and set the tone for a romantic date.
Styling tips for Valentine's Day
Take some time and think about what your date likes—and dislikes. You can plan for an outing in the park, dinner at a restaurant or a nightclub. Whatever your plans are, just remember to be punctual and well-dressed. Here's the list that will help you decide your dress as well as your style.
1. Outing or a park
If you are planning to go for an outing or at a park, you can wear a casual shirt and pair it up with blue jeans. You can even add some accessories and a watch to make you look cool for the special day. Now, you can also avail the shirt in the picture below and customize it according to your size.
2. 
2. Lunch/dinner at a restaurant
Dress to impress for the lunch date. Taking the time to pick out the right outfit shows your date that you are happy to be out with her. Wear a suit or a dress shirt with a pair of khaki pants, jeans or trousers. Wear a dark pair of shoes and keep yourself neatly groomed by shaving and putting on deodorant. A suave yet classy look blends well with a lunch date.
3. Nightclub/party
If your girl is a party freak, then nightclub or a discotheque is a perfect place for you both. And nights are the perfect time for men to wear a stylish shirt as they don't get a chance to do it every day. You don't want to be the center of attraction because it will be the special moment for you both. You can choose shirts as shown below, a perfect concoction of style, trend and masculinity.
Custom shirts for men are available widely. You can buy the above by a customized shirt at www.byronshirts.com and be in trend.