A Men's Guide to Buying Shirts Online
Posted on 28 January 2015 | Anil Panjabi |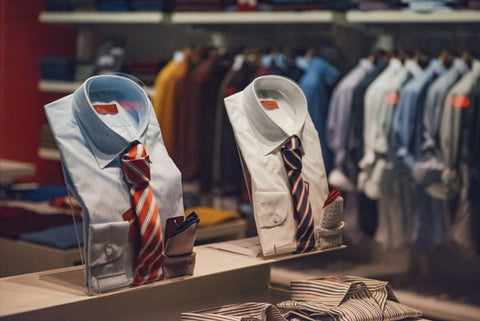 In today's fast growing internet world, everything you want to buy is available at your fingertips. E-commerce websites have provided us with a greater option of online shopping, which allows you to buy fashionable clothes from the convenience of your home. You can order your shirts, accessories, gadgets and many more things by sitting in your office/home.
Men's fashion is making great strides online with the availability of customized men's wear. It gives you a freedom to customize your shirt and place your order. But, before ordering a shirt online, let us make you aware of a few things related to online shopping. Getting a good bargain without compromising on style can be a real task. So, here is a handy guide on how to pick out men's shirt online.
5 Things to remember while shopping shirts
Men and fashion are no longer strange terms. Fashion for men has widened with time with most men taking a keen interest in how they style themselves. Let us look at tips for online shirt shopping for men to snatch the best and most fashionable bargain.
1.  Know your size
You must have made a visit to your tailor time and again for shirt stitching. You probably must be aware of your size, but it is ideal to get yourself measured by your tailor and keep the measurements to yourself. Look for shirts that matches with your physique. Start from the pit of your shirt, followed by collar to hem, and neck, and then, the circumference of the sleeve and finally end with the cuff. When in doubt, round up to the next quarter-inch.
 2.  Identify the collar
Generally, collars are classified as straight-point, button-down, semi-spread and the spread collar. Select the collar that suits you best. When you are unable to decide your collar, you can opt for semi-spread collar as it blends with most designs. At Byron Shirts, you can choose between ten different collar styles and customize your shirt as per your preference.
 3.  Don't go for black
When it comes to men's fashion, it is usually focused on black and white shirts, as these are very common colors in a man's wardrobe. Instead, select a colored shirt, as most of the colors look fine on anyone as long as the color itself is not sickly. If you are buying a formal shirt, then why not go for a light pink shirt; it gives a cool look when combined with a simple dark tie.
4.  Quality fabric
The quality of the fabric decides how the shirt would look on your body and also how long the shirt would last after multiple uses. Mostly, a blended fabric, offers the quality of both natural and synthetic fabrics and is used widely for making semi-formal and casual wear shirts.
5.  Decide a pattern
Wear a dress shirt that stands on its own. Right now, gingham and plaid dress shirts are in trend, as they add instant punch to your work wardrobe while remaining classic at heart. Custom shirts for men are available widely. Before ordering, make sure to read the return policy, in case you might need.
Buying men's shirts online are the latest trend, you can go a notch above by ordering a customized shirt. Be rest assured of the right bargain with www.byronshirts.com